we did lunch at Tunglok Xihe at Turf City. We had wanted to head to Dancing Crab but sadly it wasnt open for lunch.
in comparison, i found the food standards of Tunglok Xihe at Orchard Central better than that of the branch at Turf City.
This is the drunken chicken..
overall, i like the taste of this and i like that its chicken in a sliced roll, boneless making it easy to eat. But i recall when i had it at Orchard Central, it was more juicy. Today's one is a bit dry.
Bernard ordered the duck tongue...
i like it! its boneless too and its very tasty and soft. the centre part had some haybe hiam kind of thing. its good!
we also had a spicy and sour soup with a hand carved beancurd flower....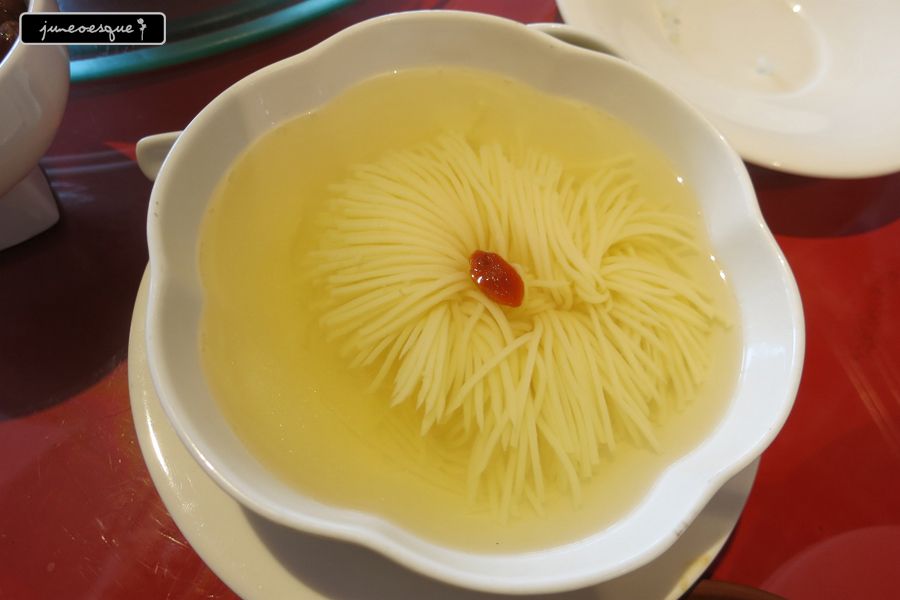 Bernard saw the picture of me posting this on fb during my previous visit and was keen to try. Again, the taste of this dish was much better when i ordered it at Orchard Central previously. Today the soup was quite bland.
we also ordered a XO fried rice...
i found the fried rice not impressive but Bernard found it alright.
and of course, the roast duck. I would say this is one of their speciality and if you only have a small group and don't want to order a whole duck, you can let the server know and let them match you up with other patrons. If there's another table who is also keen to order half a duck, you can share the order....
the duck will come with shavings of the duck leg, the skin and some breast.
it will also come with a round plate of condiments and sides where you can match with the duck...
overall a full and delightful meal!